Joop van Brakel was born on 5 April 1953 in Dordrecht.
His early ambitions in the visual arts were thwarted when, quite rightly, he was rejected from two art academies in 1971.
After a year of selling bolts, nuts and fittings by telephone in the service of a wholesaler in hardware ('71/'72) in Dordrecht, he decides that language is his next love and starts studying English and Dutch at the Moller Institute in Tilburg.
This is a surprising choice for someone who only read comic books in his youth.
Six years later – his studies still not finished – he buries his ambitions to carry out this passion as a teacher, drops out and starts an amateur band together with a.o. Toon Bressers (the later drummer of Nasmak) The Common Starecase, a band that plays Cheek to Cheek, Heartbeat, Rave On and a few other evergreens on a farm loft in Gemert (NB) every Saturday afternoon.
By a strange coincidence, a year after forming (end of 1978), this band changes its line up and domicile and becomes Nasmaak, with singer and audience favourite Truus de Groot, among others.
Truus leaves the band after a year and Nasmaak continues as a quartet under the name Nasmak.
Van Brakel, by now 26, but musically as green as grass, is – until he leaves the band in 1983 – singer, guitarist, lyricist, co-composer and graphic designer of the band, in which, apart from Toon Bressers (drums) and Van Brakel, Henk Janssen (gits, keys, vocs) and Theo van Eenbergen (bass, later known as Theo van Rock) play.
Like most of the other members, Van Brakel is active in various other projects besides Nasmak, usually even more obscure than Nasmak itself.
He is involved in occasional formations like Prompt, Trampoline, Plus Instruments and projects by Michel Waisvisz, Bob Visser, Dick Verdult, Alex Vermeulen, either as a musician, composer, lyricist or as an actor, performer or factotum.
In 1983, Van Brakel leaves Nasmak and moves to Amsterdam to work with ex-Mecano singer Dirk Polak, with whom he had already done some recording sessions under the name Valori Plastici (with Bea de Visser).
This cooperation fails because of Polak's new love: Heroine.
(Only to be taken up again in the 90s, after Dirk's detox).
Van Brakel spends six months of drifting rudderlessly in Amsterdam, but is then approached by former Der Junge Hund members Horst Rickels and Rik van Iersel to set up multi-media projects together, resulting in La Majeure Pipe Au Bois Plays Van Gogh's Last Ear (1983) and The Simulated Wood (1984).
During this time Van Brakel starts building his own stringed instruments (Aggots, etc.) and developing activities in the field of 'visual music', sound performances in which the emphasis lies on exploring the theatrical, visual and musical possibilities of the self-built instruments and installations.
In addition to independent performances and concerts, he presents this work at 'visual music' manifestations such as Echo, The Image of Sound (Eindhoven 1985), Kijk Muziek (Arnhem 1985) and Perfo (Rotterdam 1986).
Thank God, those days are over.
After seeing one of these performances, Shusaku Takeuchi asks Van Brakel to replace his regular companions Oblique in Shusaku & Dormu Dance Theater. Van Brakel agrees and provides Shusaku's work as an instant composer and performing musician with a whole new musical backdrop, subtext and sometimes foreground.
Whereas Oblique mainly used dreamy synthesiser-dominated sound tapestries, Van Brakel fits old utensils and scrap metal with contact microphones and attacks them with wood, iron, horsehair and household appliances (a common practice in those days). This turns Shusaku's work from a pleasantly framed dream into an uncomfortably wrenching nightmare.
This collaboration lasts from 1986 to 1988 and leads to performances at all sorts of locations throughout Europe.
See
for details
For Van Brakel, the 1990s were strongly marked by two collaborations.
The first is with Wim Kannekens and his dance collective Coup d'amour.
Between 1990 and 1997 Van Brakel creates nine performances with the choreographer Kannekens – whom he met at Shusaku & Dormu Dance Theater – in which dance and music are interwoven with each other and with other disciplines such as poetry, performance and visual art in ever-changing ways. Good Grief (1/2 duet/1/2 duel) is the most internationally successful of this series of performances, but other productions have also toured internationally. Kannekens and Van Brakel's point of departure is the abolition of the separation between dancer and musician. Thus, at 37, Van Brakel makes his debut as a dancer and a regular customer of the physiotherapist.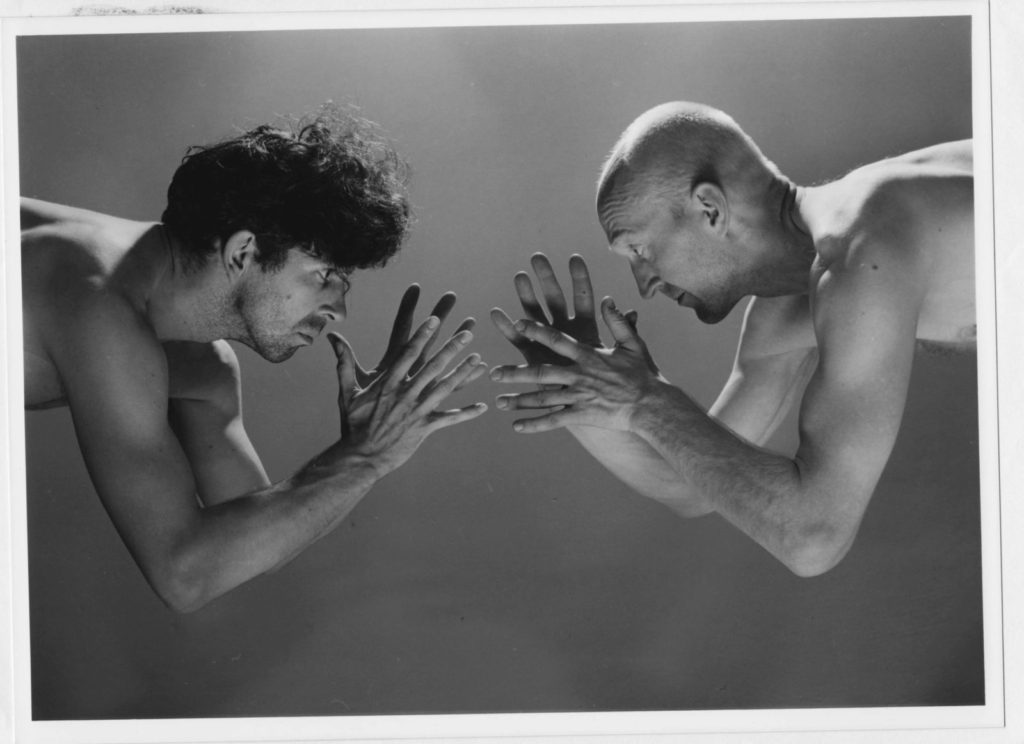 Secondly, since 1993 Van Brakel has frequently worked with mime company Suver Nuver, either as a composer or as a live musician/performer.
With them he creates the international theatre hit Vlees en bloed (Flesh and Blood), a unique adaptation of Lodewijk de Boer's anarchistic theatre triptych The Family from the 1970s.
With Suver Nuver, Van Brakel comes into contact with Moniek Merkx, with whom he makes numerous performances between 1993 and the present, in addition to Suver Nuver at Theater Artemis, TG MAX and MAAS TD and Noord Nederlands Toneel.
Through these collaborations Van Brakel as a performer gradually develops a style of working that can best be described as extended dj-ing.
He creates music scores/soundscapes on the floor from pre-recorded or sampled components, sometimes supplemented with live music and sound, and in passing takes on small roles.
In 2003 this results in a nomination for the VSCD Mimeprize (which he does not win) for his role in Frank Lloyd Wright Was A Good Architect (together with Hans Dagelet and top tap dancer Peter Kuit).
In addition to the above-mentioned collaborations, Van Brakel creates performances and performs in concerts between 1990 and 2022 with a diverse range of companies and artists such as Theater Artemis, TG Max, MAAS Theater en Dans, Speeltheater Gent, Frans Poelstra, Remko Scha (Institute for Artificial Intelligence), Motel Bokassa, Han Buhrs, Palinckx/ASKO Ensemble, Horst Rickels, Dirk Polak, Dirk Opstaele, Growing Up In Public, Peter Sijbenga, Theater van Het Oosten, Alliage Orkest/FilmMuseum Amsterdam, Onafhankelijk Toneel (OT), Kassys, Childrens' Theatre Company Minneapolis, Joris Leijtens/HetVeem, Matthijs Rümke/Produktiehuis Brabant, Boogaerdt VanderSchoot, De Citadel (Groningen), tg Waark, Dish Hunt, Bonte Hond, Laika (B), Junges Ensemble Stuttgart (JES), Staatstheater Mainz/ TanzMainz (D), NNT/Club Guy&Roni.
Since the end of the 1990s, Van Brakel has worked on an irregular basis with Toon Bressers on recordings and, together with Peter Sybenga, briefly ran the band Dish Hunt. Due to the increasing involvement of former Nasmak members Henk Janssen and Truus de Groot, in 2018 they decide to group their activities under the project name Nasmak PM (Plus Minus), referring to the name of their first Nasmak Plus Instruments album and the fact that the old Nasmak line-up is not complete without bass player Theo van Eenbergen. Moreover, that name opens doors to cooperation with others and changing line-ups.